Geschreven op 25-1-2009 - Erik van Erne. Geplaatst in Agenda, Klimaat
Update 28 juli 2017: De eerstvolgende totale zonsverduistering is op 21 augustus 2017. Helaas alleen waar te nemen in de Verenigde Staten. 
De eerstkomende volledige zonsverduistering waarvoor je Nederland niet uit hoeft, is in 2135.
De grootste duur van de totaliteit van deze eclips is 2 m 40 s in de staat Kentucky. Maar zelfs twee minuten aan de westkust van de VS is nog interessant. Het eclipspad loopt van west naar oost, van Oregon over Idaho, Wyoming, Nebraska, Kansas, Missouri, Kentucky, Tennessee, naar South Carolina, en passeert daarbij toeristisch interessante plaatsen als Yellowstone National Park en Nashville.
De zonsverduistering arriveert op 21 augustus 2017 in Oregon om 10:15 lokale tijd. Op dat moment klimt de zon en dat is op zich heel bijzonder. De zonsverduistering duurt op dat moment 1 minuut en 50 seconden.
Vanaf dat moment racet de schaduw van de maan over het vaste land van Noord-Amerika, via Oregon, Idaho, Montana, Wyoming, Nebraska, Kansas, Iowa, Missouri, Illinois, Kentucky, Tennessee, Georgia, North Carolina naar South Carolina. Om 2:49:07 lokale tijd verdwijnt de zonsverduistering uit de VS over de Atlantische oceaan.
On 2017 August 21, a total eclipse of the Sun is visible from within a narrow corridor that traverses the United States of America. The path of the Moon's umbral shadow begins in northern Pacific and crosses the USA from west to east through parts of the following states: Oregon, Idaho, Montana, Wyoming, Nebraska, Kansas, Iowa, Missouri, Illinois, Kentucky, Tennessee, North Carolina, Georgia, and South Carolina (note: only a tiny corner of Montana and Iowa are in the eclipse path). The Moon's penumbral shadow produces a partial eclipse visible from a much larger region covering most of North America. Read more at NASA
Get ready for the total solar eclipse in North America on August 21, 2017 with the brand new free iOS app Solar Eclipse 2017 by Time and Date. The first edition features eclipse maps and times, general information, and a countdown.
The upcoming total solar eclipse on Aug. 21 is more than just a chance to catch a rare sight of the phenomenon in the United States. It's also an opportunity to duplicate one of the most famous experiments of the 20th century, which astrophysicist Arthur Eddington performed in an attempt to prove that light could be bent by gravity, a central tenet of Albert Einstein's theory of general theory. Read more at Live Science
The 2017 solar eclipse may prove the sun is bigger than we think. A growing number of researchers think that the sun is actually larger than commonly thought. Scientists don't know the sun's size as precisely as the details of the Earth and moon. Read more at Live Science
A total lunar eclipse will take place on July 27, 2018. The moon will pass through the center of the Earth's shadow. It will be completely visible over Western Africa, and Central Asia, seen rising over South America, Eastern Africa, and Europe, and setting over Eastern Asia, and Australia. A lunar eclipse occurs when the Moon passes within Earth's umbra (shadow). As the eclipse begins, Earth's shadow first darkens the Moon slightly. Then, the shadow begins to "cover" part of the Moon, turning it a dark red-brown color (typically – the color can vary based on atmospheric conditions). The Moon appears to be reddish because of Rayleigh scattering (the same effect that causes sunsets to appear reddish) and the refraction of that light by Earth's atmosphere into its umbra.
12 april 2013: Op 25 april 2013 kunt u met een beetje geluk een gedeeltelijke maansverduistering (Penumbral Lunar Eclipse) waanemen zo tussen 18:00 en 22:00 uur. Zie ook NASA.
Op 9 mei 2013 vanaf 21:25 uur tot 03:25 uur 10 mei 2013 is er weer een zonsverduistering te zien. U moet dan wel even afreizen naar de Stille Oceaan, Australië of een groot gedeelte van Indonesië, waar de eclips te zien is. Voor meer informatie zie Annular Solar Eclipse.
De tweede gedeeltelijke maansverduistering (Penumbral Lunar Eclipse) is van 2013 is op 18 oktober vanaf 21:25 uur tot 01:48 uur op 19 oktober te zien in heel Europa en Afrika. Op 3 november 2013 tenslotte, is er een hybride zonsverduistering te zien in Centraal,  Tropisch Afrika. Bronnen: Spears Travel en Time and Date
In 2014 moet u afreizen naar Antartica om de ringvormige zonsverduistering op 29 april 2014 te kunnen zien en op 20 mei 2015 kunt u het beste in het Noordelijke gedeelte van de Atlantische Oceaan zijn om de totale zonsverduistering mee te  maken.  Op 15 april 2014 en 8 oktober 2014 kunt u een totale maansverduistering zien in Azië, Noord-Amerika, Zuid-Amerika en Australië. Op 23 oktober 2014 is er gedeeltelijke zonsverduistering. Bron: Time and Date
22 november 2012: Zo, het is weer tijd voor een zeldzaam verschijnsel dat slechts eens in de 2737 jaar voorkomt.
Op maandag 3 december 2012 is het zover. Dan staan Mercurius, Venus en Saturnus exact in lijn met de piramiden van Gizeh. De foto is uiteraard een photoshop en de palneten zullen niet exact op deze manier te zien zijn. Zie ook deze uitleg.
The planetary alignment that will take place on December 3rd, 2012 is a dead-on alignment with the Pyramids at Giza for the 1st time in 2,737 Years.
The extraordinary event will occur one hour before sunrise local time.
Planets inline: Mercury / Venus / Saturn. Source and photo: World Mysteries
De volgende planetary alignment van dit jaar kunt u verwachten op 21 december 2012. Dat samenvalt met het eind van de huidige cyclus van de Maya kalender. Daarom ook wel Doomsday genoemd. Maakt u zich vooral geen zorgen. Op 22 december 2012 begint gewoon de volgende cyclus (Long Count)van de Maya kalender. Net zoals bij ons de kalender eindigt op 31 december en weer begint op 1 januari. Happy New Year.
Since the Mayan calendar is based on cycles (see How Does the Mayan Calendar Work to learn more) December 21, 2012 merely indicates the end of a cycle that began on August 11, 3114 BC. While there are wild interpretations as to what this date means, and many holiday resorts are booked out on this day, there is no evidence from any Mayan literature suggesting that the world will come to an end. It is simply the end of the current Long Count, and December 22, 2012 will be the beginning of the next Long Count, or cycle in the Mayan calendar. In fact, the Mayans have names for the Long Counts, and the fact that they've named Long Counts beyond this one suggests that this won't be the last. It is significant, however, that we are entering a new cycle in the Mayan calendar.
December 21 is the winter solstice, and in 2012 the Sun on the solstice will be almost perfectly aligned with the plane of the galaxy (the Milky Way galaxy). What is astonishing is how precisely the Mayan calendar was able to pinpoint this alignment of the planets. The equator of the Milky Way galaxy (Galactic Equator) and the path of the Sun (the Ecliptic) will cross each other at exactly 11:11 am GMT on December 21, 2012. Every year on the winter solstice, our Sun has a Declination of -23.5 degrees, and a Right Ascension of 18 hours. But what makes the alignment of 2012 special is how this alignment occurs relative to very distant stars. On December 21, 2012, the alignment will be right along the plane of the entire galaxy. This precession of the equinoxes goes in a complete circle and happens only once every 26,000 years. In other words, the winter solstice moves 360 degrees every 26,000 years, or 0.01 degrees each year. Source: Exploring Life Mysteries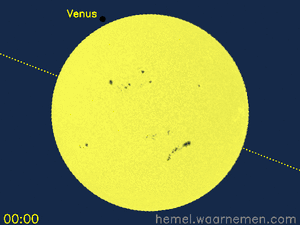 3 juni 2012: Op 6 juni 2012 is er een vrij zeldzame Venusovergang, die in Nederland en België voor een heel klein deel te zien is.
In de nacht van dinsdag 5 op woensdag 6 juni schuift de planeet Venus voor de zon langs. Vanaf zonsopgang, rond 05.30 uur, tot ongeveer 07.00 uur is dat in Nederland te zien.
Venusovergangen komen in paren voor met ongeveer 8 jaar tussen twee Venusovergangen. De overgang van 2012 is de tweede van een paar, de vorige overgang vond plaats op 8 juni 2004 en was in onze streken helemaal te zien.
Het vorige paar overgangen was in 1874 en 1882, beide in december, het komende paar Venusovergangen vindt plaats in 2117 en 2125, eveneens in december. Lees meer bij Hemel Waarnemen.
Overigens is er op 4 juni 2012 nog een gedeeltelijke maansverduistering, die in Nederalnd en België niet te zien zal zijn. Op 28 november 2012 is er weer een maansverduistering die in Nederland en België gedeeltelijk te zien zal zijn. Tijdens een maansverduistering gaat de Maan door de schaduw van de Aarde. De Maan ziet er dan donkerder uit. Tijdens een verduistering kan de Maan een rode kleur krijgen omdat de kleur rood door de dampkring van de Aarde meer wordt gebroken dan de andere kleuren, we zien dan een rode Maan.
The Transit of Venus: The transit or passage of a planet across the face of the Sun is a relatively rare occurrence. As seen from Earth, only transits of Mercury and Venus are possible. On average, there are 13 transits of Mercury each century. In contrast, transits of Venus occur in pairs with more than a century separating each pair. Only six such events have occurred since the invention of the telescope (1631, 1639, 1761, 1769, 1874 and 1882).
The last Venus transit was in 2004 so the second event of the pair will occur on Wednesday, June 6 2012 (Tuesday, June 5 2012 from the Western Hemisphere). The entire event will be widely visible from the western Pacific, eastern Asia and eastern Australia. Most of North and Central America, and northern South America will witness the beginning of the transit (on June 5 2012) but the Sun will set before the event ends. Similarly, observers in Europe, western and central Asia, eastern Africa and western Australia will see the end of the event since the transit will already be in progress at sunrise from those locations.
This year will be the last Transit of Venus to be seen in our lifetime. The next will not occur until 2117. To mark the occasion, NASA will set up a live telecast of the event from Hawaii which is the best place to view it. During the six hours a number of video clips were contracted to highlight the science behind the Transit and the culture and history of Hawaii.
The primary Sun-Earth Day webcast is being hosted by NASA EDGE in Mauna Kea, Hawaii. This webcast event will run through the entirety of the transit of venus, beginning at 9:45pm UTC (11:45am local Hawaiian time or 5:45pm EST). Source: NASA's Transit of Venus Sun-Earth Day Event
6 januari 2012: Ook in 2012 staan er weer zonsverduisteringen op het programma. De eerste, ringvormige zonsverduistering is op 20 mei en is vooral te zien in het Noordelijke gedeelte van de Stille Oceaan.
Op 13 november is er een totale zonsverduistering, te zien in de Stille Oceaan.
Op 10 mei 2013 alweer een zonsverduistering te zien in de Stille Oceaan en op 3 november 2013 is er een hybride zonsverduistering te zien in Centraal, Tropisch Afrika.
In 2014 moet u afreizen naar Antartica om de ringvormige zonsverduistering op 29 april te kunnen zien en op 20 mei 2015 kunt u het beste in het Noordelijke gedeelte van de Atlantische Oceaan zijn om de totale zonsverduistering mee te maken.
16 juni 2011: Jammer, maar de vrij unieke maansverduistering gisteravond was in grote delen van Nederland niet of nauwelijks te zien door dichte bewolking. Elders in de wereld was het fraaie schouwspel goed te volgen.
Heb een mooie time-lapse opname gevonden vanuit Yogyakarta, Indonesië, die ik graag met u deel. Op 10 december 2011 staat er weer een volledige maansverduistering op de agenda. Wellicht is die beter te zien vanuit Nederland.
Een volledige zonsverduistering zit er in 2011 niet in. Wel zijn er op 1 juni, 1 juli en 25 november 2011 gedeeltelijke zonsverduisteringen. Volledige maansverduisteringen staan wel op de agenda voor 2011 en wel op 15 juni en 10 december 2011.
2 januari 2011: Zo, de eerste zonsverduistering van 2011 is alweer in aantocht. Op 4 januari 2011 is het zover. Dan is er een gedeeltelijke zonsverduistering. Dinsdagochtend is er een gedeeltelijke zonsverduistering voorafgegaan door vallende sterren. Er is helaas veel bewolking en dat zal het zicht voor een deel ontnemen.
Als de zon door de wolken wel te zien is, kan dat een spectaculaire aanblik opleveren. Bij zonsopkomst rond 8.48 uur is de zon voor driekwart verduisterd.
Het is dinsdag nieuwe maan; de maan beweegt vanaf de aarde gezien bijna precies voor de zon langs. Rond tien over half elf 's ochtends is de zonsverduistering afgelopen.
The partial solar eclipse on January 4, 2011, will be visible from most of Europe, the northern half of Africa, the Middle East and Western Asia. A partial solar eclipse occurs when the moon's shadow misses the earth but passes very close to it. This allows many viewers the opportunity to view at least a small portion of the Sun's northern limb blocked by the Moon.
16 juni 2010: De volgende totale zonsverduistering is weer in aantocht. Op 11 juli 2010 is het zover. Zoals u op de wereldbol kunt zien is deze zonsverduistering alleen waar te nemen op de oceaan en op het uiterste puntje van Zuid-Amerika.
On Sunday, 2010 July 11, a total eclipse of the Sun is visible from within a narrow corridor that traverses Earth's southern Hemisphere. The path of the Moon's umbral shadow crosses the South Pacific Ocean where it makes no landfall except for Mangaia (Cook Islands) and Easter Island (Isla de Pascua).
The path of totality ends just after reaching southern Chile and Argentina. The Moon's penumbral shadow produces a partial eclipse visible from a much larger region covering the South Pacific and southern South America. Source: NASA
29 december 2009: Zo, we kunnen ons weer opmaken voor een zonsverduistering. In 2010 is die in een brede baan waar te nemen op 15 januari. De exacte baan kunt u ook nog even bekijken op Google Maps. De Annular Solar Eclips 2010 begint boven Afrika en trekt grootendeels via zee over Sri Lanka, Burma en eindigt bij China. Zie ook: Wikipedia Solar eclipse of January 15, 2010
Overigens is er op 11 juli 2010 nog een Total Solar Eclipse. Helaas zou u om die te willen waarnemen af moeten reizen per boot richting de Zuidpool. Wilt u alvast weten waar en wanneer de volgende zonsverduisteringen gaan plaatsvinden, dan is dit een heel compleet lijstje.
25 januari 2009: Op 22 juli vindt in Azie de langste (6m39s), volledige zonsverduistering van de deze eeuw plaats. Het begin van deze  zonsverduistering in 2009 is te zien 's ochtends bij zonsopkomst in Mumbai, India en dan gaat het pad van de Total Solar Eclipse 2009 over China, het Noorden van Thailand en een heel klein strookje van Japan  om te eindigen midden in de Grote Oceaan.
In China is deze Total Solar Eclipse in een vrij brede band te zien, van west  naar oost: Chongqing, Chengdu, Wuhan, Hefei, Hangzhou, Suzhou en Shanghai. De NASA biedt de meest uitgebreide informatie, inclusief een interactieve kaart. Voor meer informatie: NASA
Wilt u de gehele zonsverduistering even rustig volgen dan zijn er verschillende Live Streams waaruit u kunt kiezen: LIVE! UNIVERSE vanuit Japan. De University of North Dakota verzorgt een Live Stream vanuit China en ook vanuit China AtlasPost met een Chinese Livestream. Grupo Saros komt met een  live webcast uit China en op ustream kunt u de eclipse volgen vanuit Guwahati in India. Bron: Mashable
Ondanks het feit dat er In Japan slechts in een heel klein gebied sprake van een totale zonsverduistering, is er toch een ware hype rond de zonsverduistering ontstaan, die in grote delen van Japan wel een 70% verduistering geeft, met aanbiedingen in supermarkten en tal van zonsverduisteringsactiviteiten. Zie video in het Japans. 
Geen idee waarom dit zo leeft in Japan. U wel?
Bron: NAOJ